FSG Airless-Paint Sprayer 6.5 litres/min
With piston pump and pressure regulation
Also best suited for spray filler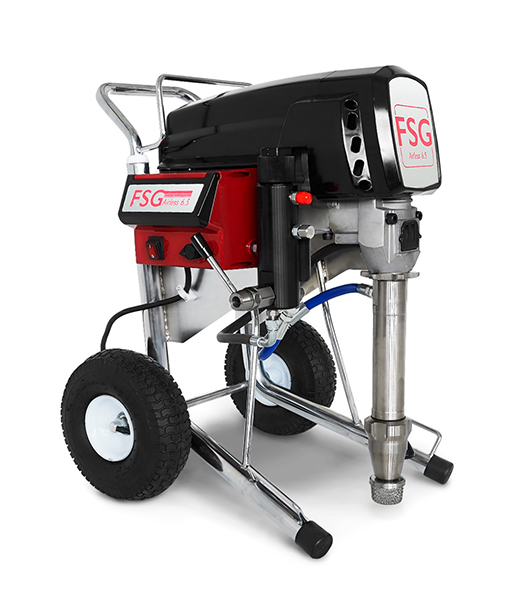 TECHNICAL DATA

 

Maximum delivery pressure 227 bar

 

Maximum flow rate 6.5 litres/min

 

Maximum nozzle size 0,041"

 

Voltage 220-250 V ~ 50/60 Hz

 

Power 4 kW

 

Weight 58 kg

 

LED display with automatic pressure control for an even spray pattern
WITH A POWERFUL PISTON PUMP
Heavy-Duty DRIVE TECHNOLOGY
The FSG airless paint sprayer with a piston pump.

Developed for professional  use, whether for new construction or
large to medium renovation and contract work.

The high delivery rate, even when using highly viscous or filled coating materials, guarantees an optimal
technical as well as economic result. Thanks to the sophisticated technology and high-quality

 

workmanship, the FSG airless paint spraying unit works extremely reliably and has a long service life.
All components can be unscrewed in a few easy steps and maintenance is kept to a minimum.

The powerful piston pump achieves a delivery rate of up to 6.5 litres/min and can therefore easily cope with longer hoses or larger nozzles up to 0.041"  (~1.04 mm).

 
 
 
PROCESSABLE MATERIALS
Primer, undercoat, basecoat, filler

Rust protection paint

Dispersion and latex paint

Facade paint

Silicate paint

Lime paint

Fire protection coating

Roof coating

Wood preservative

Oils

Mordants

Disinfectant

Airless spray filler (sprayable, premixed fillers and similar high-viscosity
coating materials according to manufacturer's specifications). 
 
 

Two high pressure hoses

Hose whip

Double nipple / adapter

Lance

 

... and much more.

Standardised connections compatible with commercially available accessories

>>> Visit our online shop. <<<
Wholesaler / reseller prices and conditions on request >>> Contact